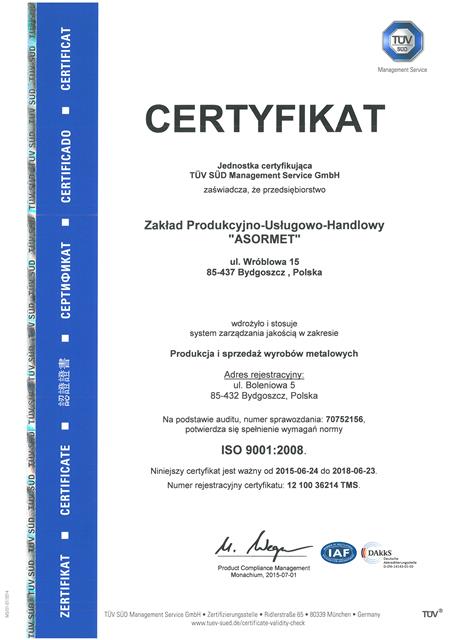 Production and service-commercial facility "ASORMET" in Bydgoszcz exists on the market from 1987.
To 1990 the plant was associated in the co-operative Craftsman GOSMET.
Since 1990 we starte dan independent business. In the first years of operation all products were made only by machining method.
Until 1991 the plant is located at Boleniowa 5 Bydgoszcz. Growing demand for larger elements forced us to build a company at 15 Wróblowa street in Bydgoszcz, where we are located until now.
The elements we manufacture are sent of eastern and western markets. Today we know that such a large group of recipients have gained thanks to the fact that we have expanded the activity of plastic working and welding.
In May 2009 the ASORMET company started work on the implementation of the quality system according to the latest European standards PN EN ISO 9001:2009. As a result of these activities, we obtained the ISO 9001:2008 certificate.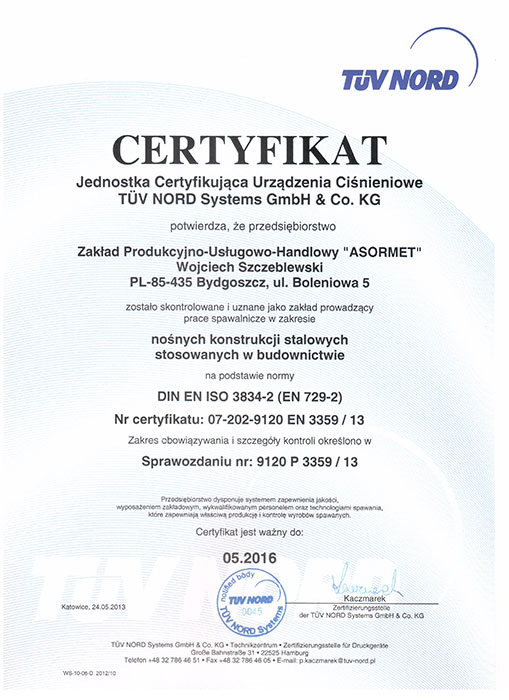 IN JUNE 2013 WE OBTAINED THE CERTIFICATE 07-202-9120 EN 3359/13 IN THE LOAD-BEARING RANGE OF STEEL CONSTRUCTIONS USED IN CONSTRUCTION ON THE BASIS OF DIN EN ISO 3834-2 (EN 729-2)